Riaan Eksteen spent nearly 30 years in the South African diplomatic service – first during some pivotal years while white rule in the country was coming under increasingly fierce criticism on the international stage, and later also during South Africa's period of transition from minority rule to a post-apartheid system and in the early years of that country's democratic era.
At several junctures, Namibia played a central part in Eksteen's career, which he recounts in his memoir, 'Beyond Diplomacy'.
Eksteen's career engagements with Namibia started when he, as a young diplomat, in the mid-1960s became a member of the team defending South Africa at the International Court of Justice in The Hague, in a case instituted by Liberia and Ethiopia to challenge South Africa's rule over the then South West Africa.
Steadily rising in his country's diplomatic service, Eksteen became South Africa's ambassador to the United Nations in New York in 1977 and was in that post when the UN Security Council adopted its Resolution 435 in 1978 – a key event that put in place the international plan eventually implemented, more than a decade later, to achieve Namibia's independence.
Eksteen was in the thick of things as the status of Namibia and South African control of the territory became major and constant issues in international relations from the 1960s through the following two decades, up to the implementation of Resolution 435 in 1989 and Namibia's independence the next year.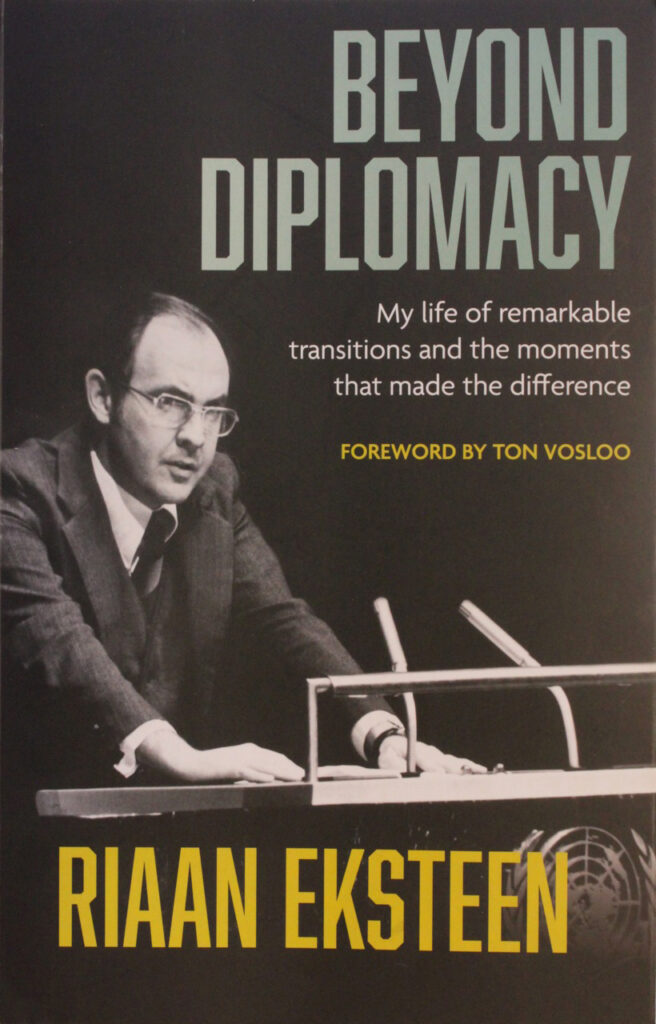 During that time, he dealt with figures like UN secretary general Kurt Waldheim, the UN's special representative on Namibia, Martti Ahtisaari, and United States assistant secretary of state for African affairs Chester Crocker, who played key roles in the eventual implementation of Resolution 435 – all while South Africa faced opprobrium and ostracism at the UN and on the wider international stage because of the racial policies of its government.
In 'Beyond Diplomacy', Eksteen gives a valuable, detailed account of events on the South African side during the diplomatic manoeuvring around Namibia's independence process. For that alone, Namibian readers with an interest in history should find his memoirs gripping.
'Beyond Diplomacy' is a telling title, though, as this work is not only focused on Eksteen's career as a diplomat, but also on transitions in his life.
One of those was a five-year tenure he had as head of the South African Broadcasting Corporation (SABC) from 1983 to 1988. That tenure came to a bitter end after Eksteen had antagonised South Africa's then president, the bad-tempered PW Botha, who had displayed a pattern of attempting to interfere in the public broadcaster's editorial decisions.
It is clear that Eksteen felt deeply hurt and betrayed when he was axed as head of the SABC – at that stage a profitable institution – in 1988. But he survived, moved on to do consultancy work and returned to the diplomatic service in 1990, when he was appointed as South Africa's first ambassador to the newly independent Namibia.
Eksteen served in that position until the end of 1991, when he was appointed as South Africa's ambassador to the UN agencies in Geneva, Switzerland. That was followed by an appointment as ambassador to Turkey, also accredited to the central Asian republics Azerbaijan, Kyrgyzstan, Turkmenistan and Uzbekistan.
Over the past decade, during which he continued with academic studies and earned a doctorate degree in political studies in the latter half of his 70s, Namibia has been home to Eksteen and his wife, Ria, who are living at Swakopmund.
Eksteen ends his memoirs on an appropriately reflective note.
Setbacks and mistakes in a person's life are stepping stones leading to new opportunities, he notes. In his life, he has had many highs, but also some lows, he writes. It was only when he experienced the lows that he could really appreciate the highs.
Eksteen has had an eventful career, during which he was a first-hand witness to and participant in events that shaped southern Africa, and Namibia especially. He has done a service to history by recording these events in his memoir.
'Beyond Diplomacy' is published by Protea Book House.