Athletics' loss was definitely hockey's gain when former DTS and national hockey team midfield star Andrea Grögli decided to hang up her running spikes to fully concentrate on what would turn out to be a glittering hockey career.
The Windhoek-born retired star was first introduced to hockey in 1987 while still a pupil at the Deutsche Oberschule Windhoek, now Delta Secondary School, where she started playing for the fourth team (beginners) of the school.
Grögli's game was characterised by skill, fitness and speed, which is not surprising as she was also an award-winning sprinter of note during her high school days.
"I was very fast on the hockey field and that was one of my outstanding characteristics and I mixed that with skills and endurance. I am a nine-time Victrix Ludorum winner at my school. I dominated the girls' 100m and 200m sprints while I also excelled in the long-jump," she says.
"I was among the first group of school children who represented the country at the Botswana International Meeting after independence in 1990, and I returned home with a gold medal in the long jump after an impressive leap of 5,6m."
Grögli won her last Victrix Ludorum in Windhoek in 1991 when she won the 100m and 200m races and the long-jump during the National Junior Under-19 Athletics Championships, which also attracted athletes from Botswana and Swaziland.
She then calls it quits on her athletics career to play for SKW, which she joined while still at school in 1988, before moving on to Pirates in 1990.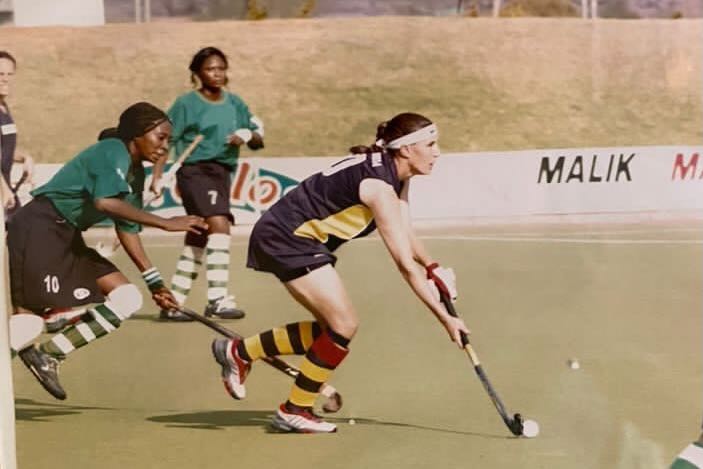 At Pirates, she took her form to another level after regularly playing practice matches against their men's team.
The former midfielder joined DTS, which she is still a member of, in 1992. Since then, she played with them in the women's premier league until she quit last year.
The former DTS stalwart captained the national under-18 team that won the inaugural Africa Under-18 Cup, hosted by Zimbabwe in 1992, although she didn't enjoy much luck with the national under-21 side that participated in a junior continental event in Kenya in the same year.
"I really enjoyed myself on the hockey field and gave it my all for all the teams I played for, be they from school, junior national teams, the clubs I played in both the indoor and outdoor hockey leagues. I also played indoor hockey in Austria in 1995," she noted.
"I won the Austrian women's indoor premiership with my club HGM Econsult Mödling, which qualified us to play with the various league champions in the European Indoor Club Hockey Championships. I can proudly tell you today that I am a European champion."
Grögli, who mentions the equally talented former Ramblers star Shane Cormack as her toughest opponent during her heyday, had a disappointing tour with the women's outdoor national team at the 6th All-Africa Games in Zimbabwe in 1995, but she at least redeemed herself by winning her only Namibian women's premiership title with DTS in the same season.
On a personal note, Grögli was named the DTS women's Player of the Year as well as the Most Outstanding Player of the Year during her time with the Olympia-based club.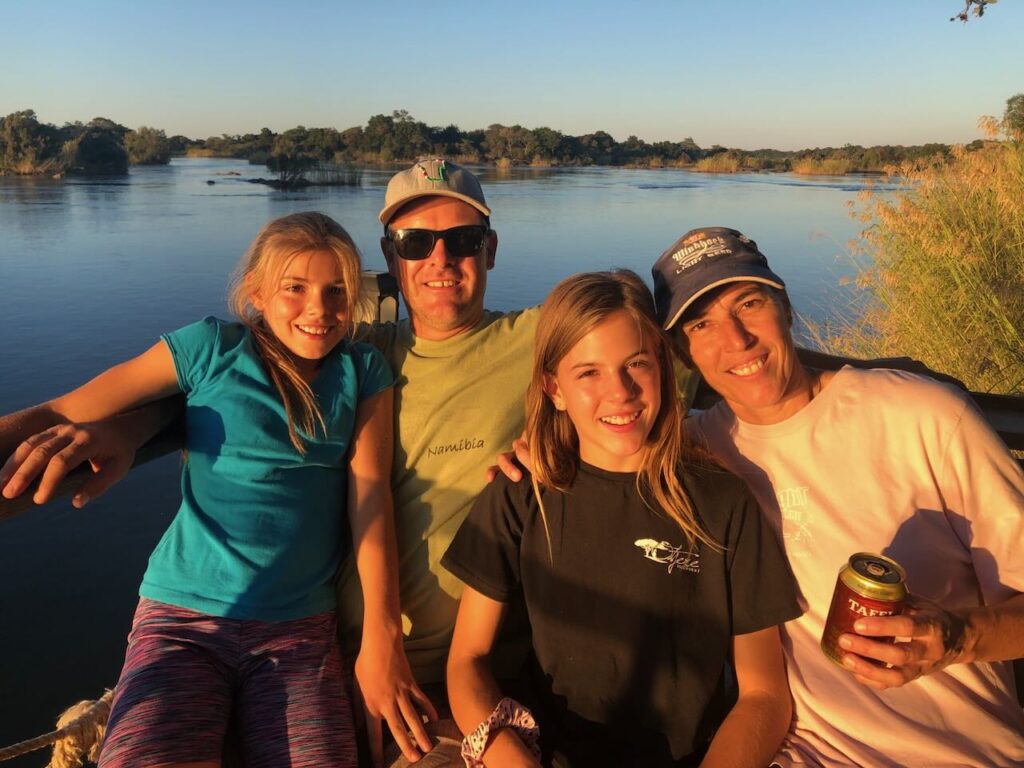 The former SKW star says she wants to be remembered as an absolute fighter.
"It didn't matter to me if we were the underdogs, whether it was my club or the national team. I always had this belief we could win and I always went on the pitch to win. I believed in my teammates."
Grögli enjoyed very good moments with the senior national women's team, including at the Commonwealth Games in Kuala Lumpur in 1998, and the 1999 7th All-Africa Games in Johannesburg, South Africa.
The former midfielder also captained the Namibian women's outdoor team at the Africa Hockey Cup, hosted by South Africa in Johannesburg, in 2005.
Her versatility came to the fore again when she captained the national women's team to a fifth-place finish out of 12 nations at the Fistball World Cup in Switzerland in 2006.
She started playing fistball at SKW in 2000 and she counts herself lucky to have been signed up by a club from Switzerland to go play in their league during the 2002-2003 season.
Her sojourn in the Swiss Alps seems to be a very fortunate and blessed one because that is also where she met her Swiss husband Stefan Grögli, who she married in 2007.
The happy union produced two beautiful daughters.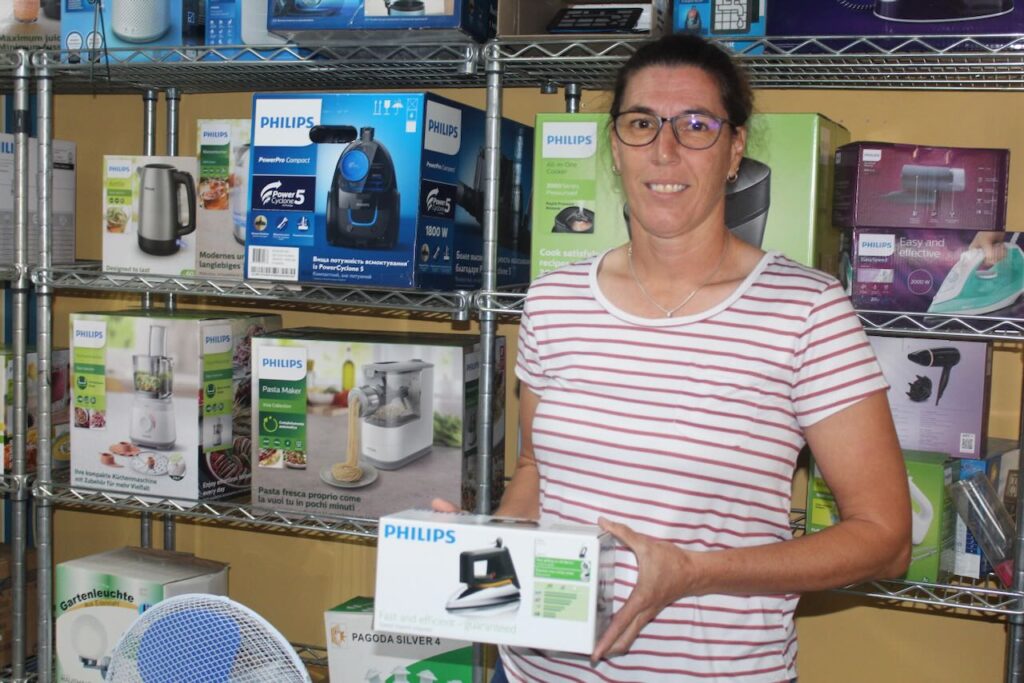 "My days in the Switzerland Premiership gave me the opportunity to play fistball against some of the finest players in the European Hockey Championships. Those were glorious years and today I am a European fistball champion. Isn't that just too beautiful?"
A normal day for her starts very early because she first has to get the children ready for school before she goes to work at 07h30.
"I am running a family business – African Electric, together with my brother Rolf Beiter, which is situated in Windhoek's Southern Industrial Area. It is an electrical wholesaler, specialising in electrical supplies and equipment," she notes.
"Business is going well but our biggest challenge at the moment is to receive imports from overseas. Things aren't the same since the dawn of Covid-19 due to the high costs of importing stock by sea, which now costs three times more than before."
She says the company managed to survive Covid-19 only to lose business to import levies.
Importing from neighbouring South Africa offers no relief either, as costs are almost six times more expensive than importing from overseas, she says.
The former national team star, who mentions coaches Mark Nel and Randy Slabbert as the biggest influences in her hockey career, had a short stint with the girls PSI under-13 team, which she assisted with coaching in December last year.
"I am very thankful for the opportunity that was accorded to me by Shane and Trevor Cormack to help them coach their girls team at the IPS tournament. Maybe coaching can be the start of a new career. I have vast experience with the young ones," she says.
She also helps out with coaching at the K-5 programme, and says coaching and running a business at the same time can be very challenging.
The retired star describes her final match in which she captained the national team to a maiden victory against the world renowned South Africa during the indoor Africa Cup in a three-match series, as the most memorable game ever.
"I know we didn't win the series but just the feeling that it was our first time ever to beat South Africa and I was the captain of our national team, makes me very proud. That is one moment I will never forget as long as I live," she says.
Grögli's advice to young and aspirant hockey players is: "live your dream and make the impossible possible"