The pain started when I got my period in November of 2021. Days after my period ended, I still had cramps,and they seemed to be getting worse.
It was around 23h00 when I doubled over in pain and screamed for my mom.
Pain was coming from my lower abdomen.
I was curled up in a ball on the floor, with tears running down my face.
I couldn't walk.
My mom helped me to the car and rushed me to hospital.
The next morning, after the doctors had evaluated me, they told me I had appendix infection, which they treated with antibiotics.
After three days in the Okahandja State Hospital, with an appendix infection, I was released only to be readmitted a few months later, and later transferred to the Rhino Park Private Hospital in Windhoek, with a condition called acute appendicitis, which meant my appendix had to be removed.
While the doctors were doing a sonar scan to get a look at the state of my appendix, they found a cyst on my right ovary.
I remember being confused, and scared because I didn't know what this meant for me.
After surgery to remove my appendix and the cyst, I thought I was better.
FEAR OF ENDOMETRIOSIS
Almost a year later, the pain returned worse than ever.
After consulting my doctor, I was informed that there was another cyst, but it wasn't as big as the first one.
The cyst was growing on the same ovary as the last one.
Fear creeped into my heart and the first thing I thought was 'cancer', because how could it HAPPEN AGAIN?!
The doctor informed me that it wasn't cancer, but there was a possibility I might have endometriosis.
WHAT IS ENDOMETRIOSIS?
Endometriosis is a disease in which tissue similar to the lining of the uterus grows outside the uterus and there's no cure for it.
It affects women between the ages of 15 and 44. It most often occurs on or around reproductive organs in the pelvis or abdomen including the fallopian tubes, lining of the pelvic cavity, ovaries, outer surface of the uterus, and rarely does it occur on the bladder, cervix, intestines, stomach, rectum and vagina.
The tissue growing in these areas doesn't shed during a menstrual cycle like it usually does. The build-up of abnormal tissue outside the uterus can lead to inflammation, scarring and painful cysts.
It can also lead to the build-up of fibrous tissue between reproductive organs, causing them to "stick" together.
Endometriosis cannot be detected through a sonar scan.
The doctor had prescribed a drug that treats endometriosis, called Visanne. This oral pill alleviates the period cramps and reduces endometriotic lesions.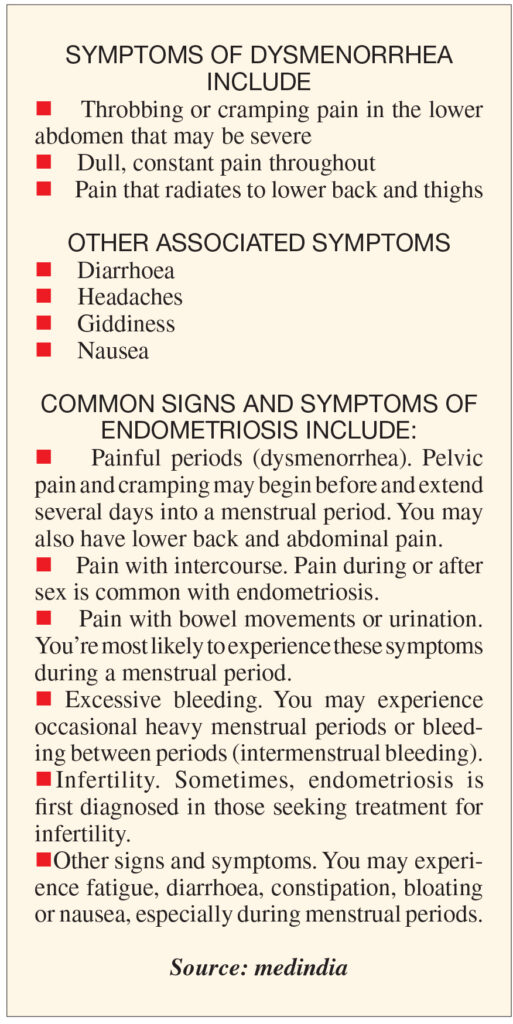 THE END RESULTS
After three months on Visanne, I was admitted to the Rhino Park Private Hospital last month.
I was scared to say the least. I was afraid they'd tell me I had this non-curable disease and that I had to live with it my entire life.
After a laparoscopy, the doctor told me he couldn't find any signs of endometriosis and that my pelvis was clean.
I was beyond relieved and I remember thanking God.
He then diagnosed me with severe period cramps (dysmenorrhea). He explained that sometimes women get these severe cramps that effect their daily routines.
He said these severe menstrual cramps can cause cramping in the lower abdomen, pain in the lower abdomen, lower back pain, pain radiating down the legs, nausea/vomiting, diarrhoea, fatigue, weakness, fainting and headaches.
He told me that it usually stops after you have your first child, but the best treatment for now would be oral contraceptives.