Immanuelanti-corruption Commission (ACC) director general Paulus Noa pleaded to be reappointed for five more years, claiming his departure could affect ongoing high-profile corruption cases.
Experts and politicians, however, rubbished this claim.
Noa motivated his plea in a letter seen by The Namibian and sent to, among others, president Hage Geingob as the appointing authority and the National Assembly (NA) earlier this month.
"I trust I remain the preferred choice for reappointment," he wrote, listing his achievements.
Noa appears to have gotten his way.
This week, prime minister Saara-Kuugongelwa Amadhila tabled Noa's reappointment in parliament.
After being approved, Noa will clock up 20 years in charge of the ACC by 2026.
Noa lobbied to be reappointed on the grounds that he felt he could prove vital to the successful prosecution of ongoing cases.
"Due to my involvement in leading, supervising and issuing of summons[es] served on suspects and potential witnesses, my possible premature departure from the commission may jeopardise the outcome of court proceedings," he wrote.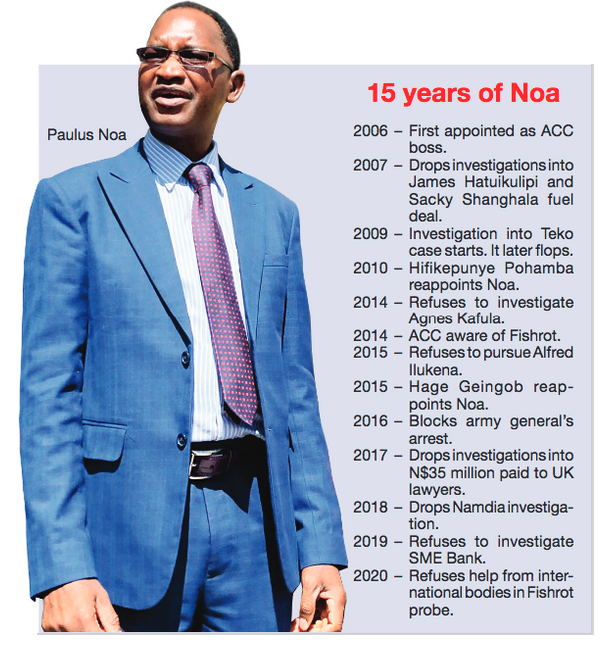 Noa is deputised by Erna van der Merwe.
During his time at the helm of the anti-graft body, Noa said, he had submitted 699 corruption dockets to prosecutor general Martha Imalwa.
He said 249 of these dockets are still pending in criminal courts.
Noa said as he had authorised these cases, the court may want him to testify to explain and justify the cases.
"Given the role I have played in supervising these corruption investigations […] it is not ideal that the current acting director general and deputy director general are relieved from the service of the commission at this critical moment," he said.
Noa, who was appointed as the founding ACC boss in 2006, declined to comment on his letter yesterday, citing that parliament was still discussing the president's recommendation.
"I cannot comment on a matter pending in parliament, but in this case, there are only two appointing authorities – the president and the National Assembly," he said.
Presidential spokesperson Alfredo Hengari said the Presidency does not have records of Noa's plea.
In his letter, Noa said over the past 15 years he had ensured that the high standards of the ACC were upheld at all times.
He said this had avoided unnecessary legal costs resulting from lawsuits because of negligent conduct by investigators.
"Namibia has, throughout my term of office, maintained her position as one of the least corrupt countries in the SADC region, Africa and the rest of the world, accord- ing to the Transparency International Corruption Perception Index," Noa said.
Noa has cut a polarising figure during his 15-year tenure as Namibia's top graft buster.
To some, he is a hardworking, competent corruption buster.
To others, he is incompetent and was placed at the ACC to shield the political elite.
Institute for Public Policy Research executive director Graham Hopwood called for transparency in the appointment of the ACC head.
"The fact that the ACC is dealing with high-profile and complicated cases cannot be used as an excuse for keeping people in their posts in perpetuity," Hopwood said.
"A clear and transparent process for appointing a new DG and deputy should have been put in place at the end of last year when the terms of office ran out," Hopwood said.
He added: "Unfortunately, the Anti-Corruption Act is deficient in this regard, and such decisions are left to the whims of politicians."
Political analyst Henning Melber said the manner of Noa's reappointment is likely to erode public trust.