The third leg of the 2022 Motorcross (MX) season took place at the weekend at the upgraded Galinna MX tracks north of Windhoek.
According to organiser and well known MX and Dakar participant Ingo Waldschmidt, both riders and spectators turned up in numbers.
Forty riders entered in the various MX classes – 14 more than for the second leg that took place at Gobabis last month. The fewer entries could be attributed to the schools' mid-term break, he told Top Revs.
The weather also played a part, as the recent good rains and over-cast sky ensured perfect conditions to race and compete on a soft track.
"The riders enjoyed the whole event and it was a good race," Waldschmidt said.
Just like the tracks at Gobabis, Galinna was also altered to be at par with international standards, as it was a bit short and was welcomed by the MX riders, he added.
Although there were two cases where riders needed medical attention on the scene, the race continued.
"This is actually cool since this is the third event. There have been fewer incidents since the beginning of the season and the tracks are not so demanding like in the past," Waldschmidt said.
Waldschmidt said they also held a memorial service for Wolfgang Rohe, who died recently in a motor vehicle accident. Rohe will be remembered for his role and participation in MX.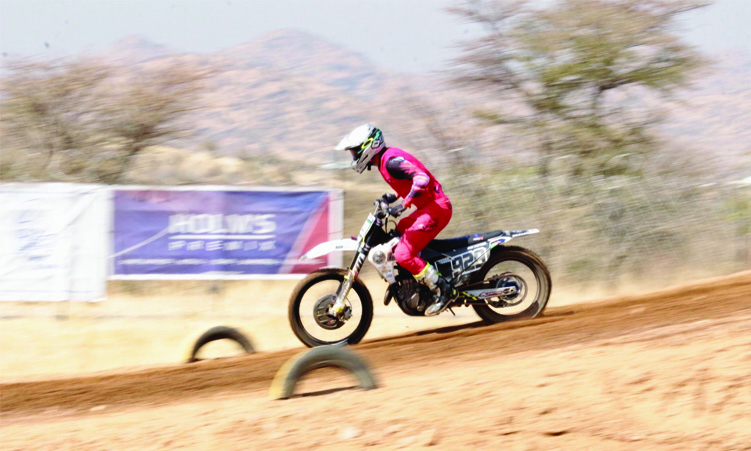 Meantime, Uys Prins­loo, the sponsor behind Anneke Lee and her electric bike (EB), the Talaria Sting, was happy with Lee ending in third place as it is still a new dimension on the code.
Prinsloo said the EB was upgraded since her first race at Omaruru earlier this year when she ended second in the Women's class (WMX).
"It was a non-electrical upgrade, all was mechanical," Prinsloo told Top Revs. "We put in a bigger sprocket, chains, better MX suspension and better handle bars, he added. It was only a small upgrade."
He added that if all goes well, more upgrades like bigger wheel sizes will be on the menu.
"These changes gave it a lower torque spec for better handling for the rider," Prinsloo said.
Despite the fierce competition and the technicality of the track, Lee did well, ending in third place, he concluded.
The results are as follows. Class and position.
WMX: Zoe Waldschmidt, Ronja Friedrich and Anneke Lee
50cc junior: Mason Meyer (only participant in this class)
50cc senior: Oliver Mathews, Duhan Steenkamp and Markus Pack.
65cc: Patrick Geiger, Connor Bouwer and Felix Wittreich
85cc: Juan de Vos, Marco Lindemeier and Leander Metzger.
125cc: Bjorn Kebbel, Gero Frederich and Jarno Metzger.
Clubmans: JC le Roux, Heinrich Simon and Tony Viljoen
Open Class: Mark Sternhagel, Uwe Thorsten Sternhagel and Don-Ray Botha
Veterans: Sigi Pack, Heiko Stranghoner and Olaf Pack.